How Often Should You Change Your Home's Air Filters?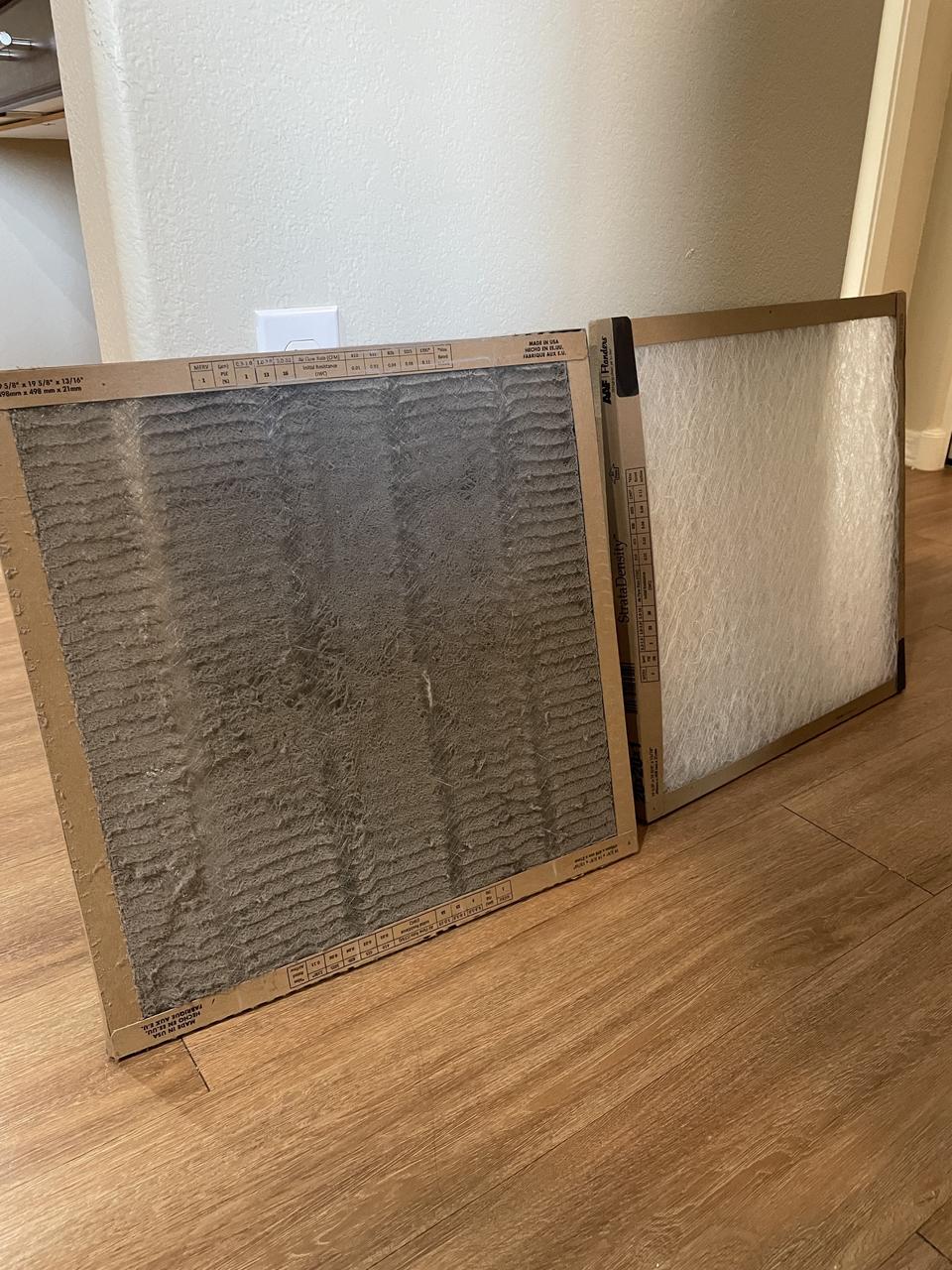 As long as your heating and cooling system works properly, you probably don't give much thought to your air filters. However, if you don't change them out regularly, your filters will begin to accumulate dust, hair, dander and even mold spores over time. Not only do these particles interfere with the performance of your HVAC system, but they can reduce your home's indoor air quality as well. This can make the people in your household susceptible to headaches, fatigue, sinus congestion and other symptoms.
If you're wondering, "How often should you change your home's air filters?" we have the answers you're looking for. In this blog we'll review:
We'll discuss the benefits of routine HVAC maintenance and how it can reduce your energy bills and protect your heating and cooling investment for long-term performance.
Want to schedule an AC tune-up with Tucson's most trusted HVAC company?
Call Advantage Air Mechanical today at (520) 792-9400 or click below to schedule online. We offer honest AC tune-ups designed to prime your AC for maximum efficiency and performance. Plus, our technicians aren't paid on commission, so if they uncover the need for AC repairs you won't have to worry about upselling. Our only goal is to help you save money on energy bills and avoid costly repairs.
The Importance of Changing Air Filters
With so much to take care of in your daily life, it can be easy to neglect your air filters entirely. However, attending to this crucial task offers a slew of benefits—both for your AC unit and your entire home.
One of the key advantages of changing your air filters is maintaining a cleaner living space. Various particles such as dust, hair, and pet dander, and even mold spores get pumped through your unit on a daily basis. By regularly changing your filters, you're also cleansing the air in your home of these substances.
Clean air filters can help protect the health of you and your loved ones. As harmful particles build up inside the vents, they may trigger symptoms such as congestion, headaches, dizziness or difficulty breathing. Your filters need to be changed frequently to ensure that the air circulating through your home isn't making anyone sick. Oftentimes, homeowners don't even realize their air filters are at fault and simply blame allergies instead.
Replacing your filters is also crucial to boosting your air conditioner's efficiency. When your filters are clogged with debris, your unit will have to work harder to cool your home. By maintaining a more energy efficient air conditioner, you can also save money on energy bills.
When to Change Your AC's Filter
You now know how important it is to change your AC filters regularly. But how do you know when it's time to swap them out? As a rule of thumb, it's best to replace your filters at least once every three months. However, some homeowners might need to do so more often. The ideal frequency depends on certain factors, such as your location, the age of your AC unit, and the size of your home.
The best way to determine whether your filters need to be changed is to visually inspect them. Each month, remove the air filters and hold them up to the light. If you don't see any light passing through the filters, this means that they've become clogged with debris. Be sure to replace the filters as soon as possible to keep your air conditioner running smoothly and protect the air in your home.
If you own a ductless AC system, you'll want to clean your filters often. It's generally recommended to give your filters a deep clean once every two to four weeks to keep your ductless system running smoothly. In addition, you might consider an air filter replacement at least once a year to ensure optimal performance.
When to Change Your Furnace's Filter
Like AC filters, furnace filters should usually be switched out at least once every 90 days. However, if you own any pets or if anyone in your household has a history of allergies, you might want to replace the filters more often. It's also worth noting that the type of filter you have plays a key role in how frequently you need to change it. If you aren't sure which type of furnace filter you have, a professional HVAC technician can examine it to determine how often you should be replacing it.
Overall, it's important to be aware of the signs that your air filter needs to be replaced. If the filter has changed color or if there's a limited flow of air coming out of it, it's a good idea to swap it out for a new one. Other common signs of a dirty furnace filter include a rise in energy bills, strange odors coming from the furnace and a buildup of dust around your house.
When to Change Your Heat Pump's Filter
Most experts agree that the average heat pump filter should be replaced at least twice a year. As always, this guideline depends heavily on your lifestyle as well as the type of heat pump you own. There are also a few telltale signs that will tell you whether you're changing out your filters as often as you need to.
For example, if your heat pump isn't warming or cooling your home as efficiently as it used to, this is likely due to a clogged air filter. When large amounts of debris build up inside your filter, they limit the amount of air that can circulate through the heat pump. This means it will take longer than usual for the heat pump to warm up or cool down your space.
The Benefits of Regular HVAC Maintenance
Scheduling regular HVAC maintenance is essential to keeping your unit in good shape year-round. Some of the key benefits of a tune-up include:
Fewer repairs needed
Higher energy efficiency
Increased safety for you and your family
Enhanced indoor air quality
Lower utility bills
Longer lifespan of unit
Schedule Your AC Tune-Up With Tucson's Most Trusted Name: Advantage Air Mechanical
If you want an AC tune-up that delivers exceptional value for your hard-earned money, look no further than Advantage Air Mechanical. Our NATE-certified technicians can service any central or ductless AC system out there. And since we don't pay our techs on commission, you can trust that if they recommend a repair or part replacement, you genuinely could benefit from it. Our only goal is to help you get more mileage out of your AC system, along with increased comfort and energy savings.
For convenient 2-hour scheduling windows and 100% satisfaction guaranteed, call to schedule your tune-up today!