Get a New Comfort System Plus Maintenance, Tune-Ups, Repairs & More for One Low Monthly Price
When it comes to great comfort system deals for your home, nobody in Tucson can match Advantage Air Mechanical. With our Old Pueblo Cooling Plan, you can get a comprehensive and inclusive installation and maintenance package. On top of a brand-new central AC, ductless AC, or heat pump installation, we ALSO include system services, maintenance (including filter changes), and more for 10 years at no additional charge!
This package is just another way we thank the Tucson community for doing business with us over the last 30 years.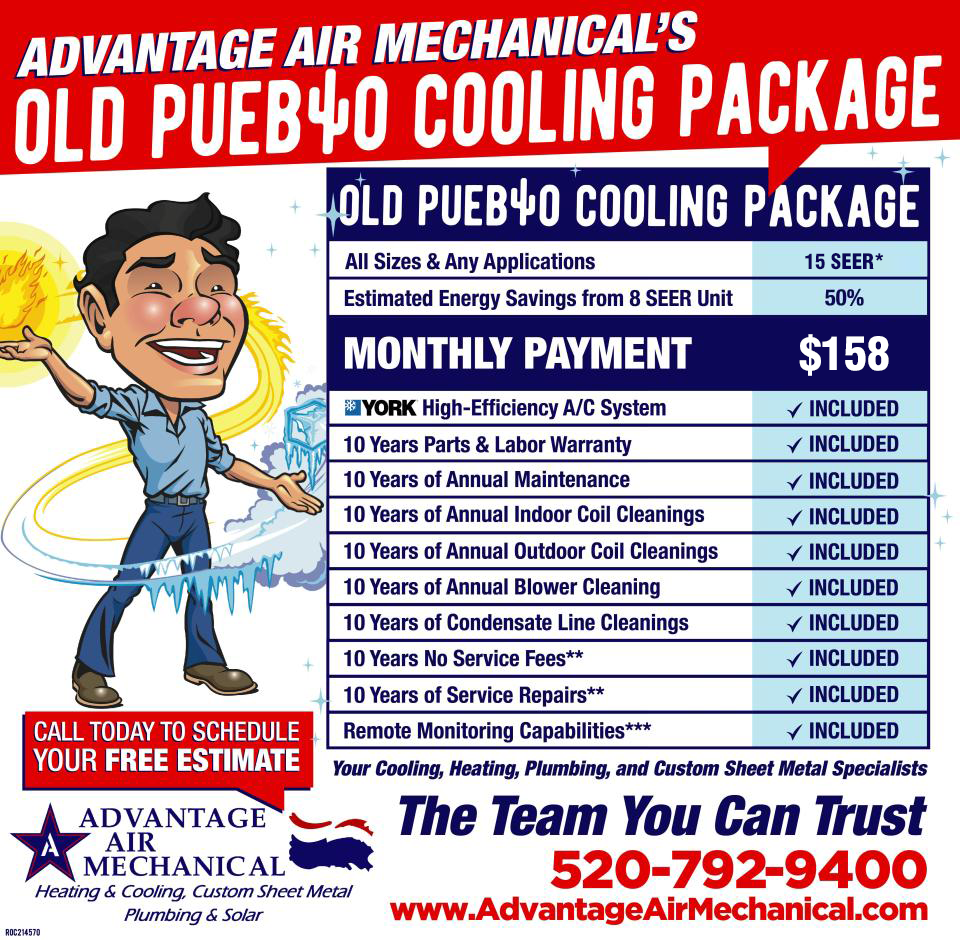 More Benefits
Frequently Asked Questions
1. What's covered by my 10 years of annual maintenance?
One of the best parts about the Old Pueblo Cooling Package is the 10 years of annual maintenance we throw in for free. This includes one annual tune-up visit on your York air conditioner, usually performed in the spring, to ensure your system runs smoothly during the hottest time of the year.
We are true believers that one tune-up visit a year can save homeowners a lot of money and a lot of frustration. Tune-ups are proven to reduce surprise breakdowns, lower energy bills in the summer, and extend the life of your cooling system. And you're getting 10 years of tune-ups for free when you sign up for the Old Pueblo Cooling Package!
2. What services are performed during the cooling tune-up?
We will thoroughly clean the entire system inside and out, including the indoor and outdoor coils, the blower motor, and the condensate lines. And we test all major system parts to ensure they're working properly. If any replacement parts are necessary, we can usually replace them on the spot on the same day. The package also includes 10 years of filter changes.
3. What do the 10-year parts and labor warranties include?
The 10-year warranty on labor covers ALL labor performed by Advantage Air Mechanical on your York air conditioner for the next decade.
The 10-year warranty on parts includes ALL parts in your new air conditioner, including critical parts like the evaporator coil and condenser.
Essentially, homeowners pay nothing for repairs or replacement parts for 10 whole years.
4. What is included with the remote monitoring capabilities?
You'll get instant alerts if anything goes wrong with your AC, and so will we. Remote monitoring lets us diagnose potential issues with your air conditioner before they cause a system malfunction or breakdown.
Call Today to Schedule a FREE Installation Estimate!