Why Is My Water Heater Leaking?
Have you noticed water on, around or underneath your water heater? If so, you're probably wondering how it got there and whether you should be concerned about it.
Typically, water heaters leak because of:
Below, we'll look at each of these issues in more detail, so you can get a better understanding of why your water heater may be leaking and what you can do to fix it.

Need immediate help?
If you'd prefer to have a trusted expert diagnose your water heater and make any necessary repairs or replacements, contact Advantage Air Mechanical. We've helped thousands of homeowners in the Tucson area, and we'd be happy to help you too.
Leak Reason #1: Cracked or corroded tank
If you notice water dripping from the side or the bottom of the tank, you likely have a cracked or corroded tank.
Water is full of elements that can corrode your water heater over time. Every water heater has an anode rod that attracts corrosive elements to itself to preserve the life of your water heater. However, no matter how well you take care of your water heater, the tank will eventually start to corrode (usually from the bottom where the sediment/corrosive elements gather).
If your water heater is leaking from the side, it's likely due to a stress fracture. Your water heater is constantly heating water, which increases the pressure in the heater. When hot water leaves the tank and cool water replaces it, the pressure decreases. Over time, this constant expansion and decompression can cause the sides of your heater to crack.
Unfortunately, if your water heater tank is leaking, you'll need a replacement. There's no sustainable "repair" for a leaking water tank. And if your tank is leaking, it's usually a sign that your water heater is getting old and needs to be replaced anyways.
Leak Reason #2: Leaking or loose inlet/outlet pipes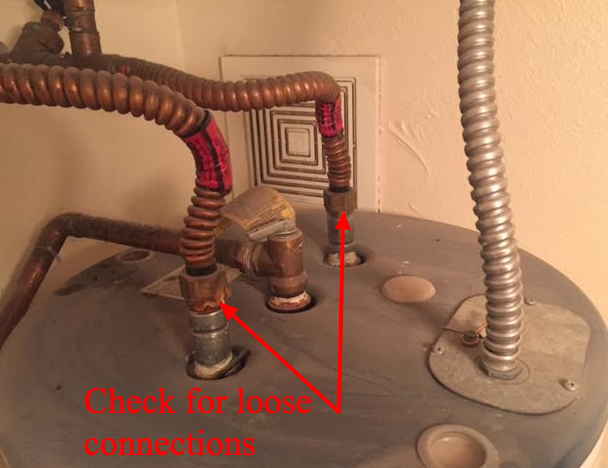 Your water heater has two "identical" pipes running into the top of it:
The inlet pipe brings cool water into your water heater and the outlet pipe takes heated water out of the tank and distributes it throughout your home.
Over time, the connections on your inlet/outlet pipes can become loose or rusted. Once this occurs, water may start to leak from them.
Our suggestion would be to try and tighten the pipe connections with a wrench. If that doesn't work, or if you notice rust around the pipe or connections, you'll want to reach out to a plumber who can diagnose the problem and replace the pipes or connections if necessary.
Leak Reason #3: Loose or worn out drain valve seal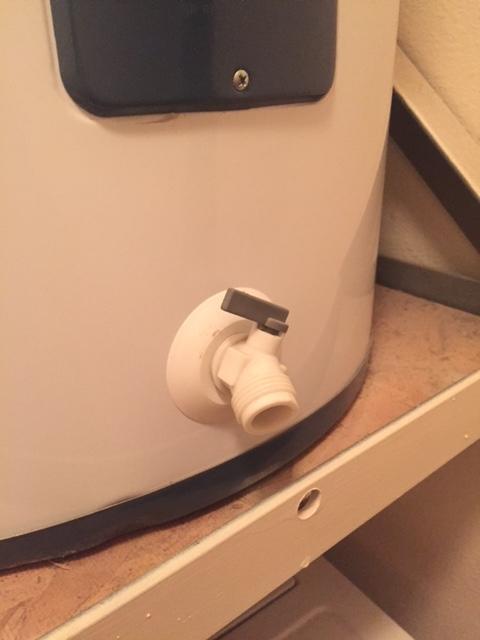 The drain valve is an important part of your water heater and allows the heater to be drained for maintenance and cleaning.
If your water heater was recently maintained and you notice a little water around the bottom of your heater, the drain valve may not have been closed all of the way.
However, if the valve is securely closed but you notice water dripping from this area of your heater, the seal around the valve has probably gone bad. Over time the drain valve seal can wear out, causing water to leak out.
To repair this, you'll need to drain your water heater (or have it drained by a professional) and replace the seal.
Leak Reason #4: Faulty pressure relief valve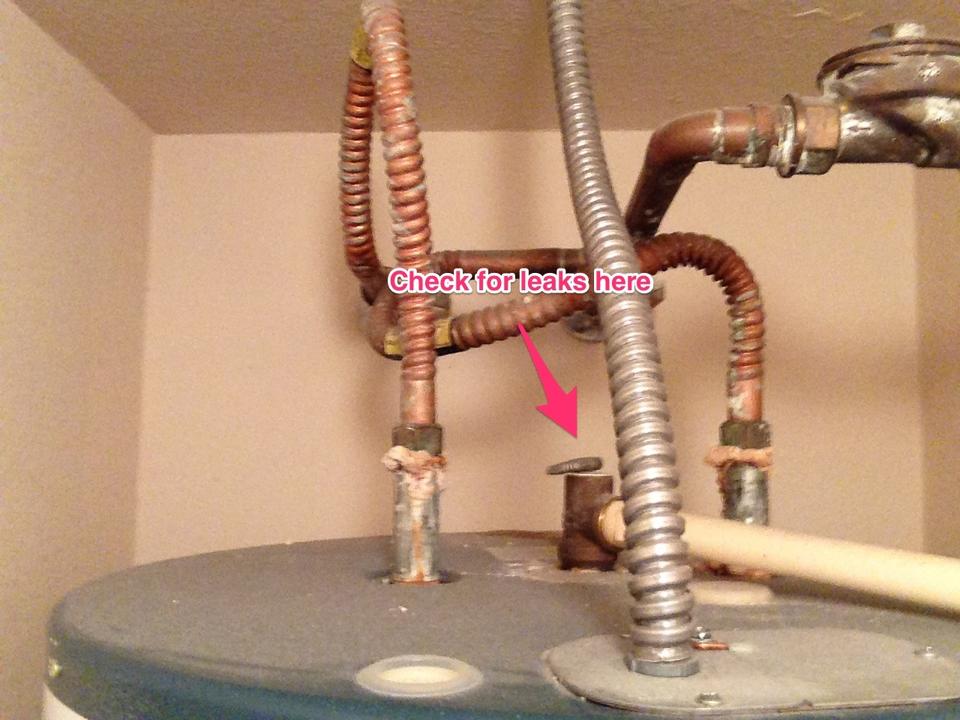 The pressure relief valve sits on top of your water heater and will discard water from your heater if the pressure or temperature inside your tank gets too high.
However, pressure relief valves can also become damaged or malfunction, causing them to disperse water when the pressure and temperature inside your heater are at perfectly normal levels.
Our suggestion would be to check the temperature of your water heater. Typically, a water heater's internal temperature should not exceed 120 degrees.
If your water heater is 120 degrees or lower, there may be another issue causing the pressure inside your water heater to build to unsafe levels or the issue could be the pressure relief valve itself. You'll need to reach out to a professional to ensure your water heater is operating safely and to replace your pressure relief valve if necessary.
Leak Reason #5: It's actually your HVAC system that's leaking
Sometimes homeowners think that their water heater is leaking, when it's actually their air conditioner, heat pump or high-efficiency furnace. In many homes, the water heater and HVAC system are in the same closet or space, so a leak from the HVAC system can appear like a water heater leak.
Before assuming your water heater is leaking, take a look at your HVAC system. If you notice that the sides or bottom of your system are wet, it's likely the leak is coming from your HVAC system and not your water heater.
Typically, leaking AC/heat pumps are the result of:
Low refrigerant levels
Blocked airflow
Clogged condensate lines
If you have a high-efficiency furnace that's leaking, it's probably because of a backed up condensate line or a broken condensate pump.
In the case of an AC or heat pump, try replacing your air filter. If this doesn't stop the leaking (or if you have a furnace that's leaking), you'll need to contact a technician to come diagnose and repair your system.
Need help with a leaky water heater? Contact Advantage Air Mechanical!
If you're experiencing one of the issues we listed above or your water heater is leaking from another location, reach out to us! We have diagnosed and repaired hundreds of water heaters, so no matter what the issue with your water heater is, we can help.