Cost of a Commercial AC Installation in Tucson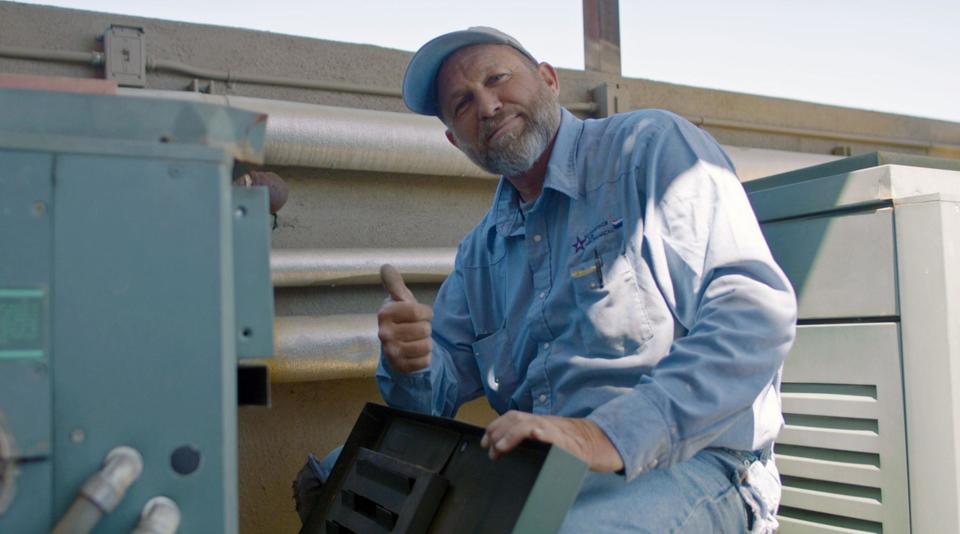 In the market for a new commercial air conditioning system? From small rental properties, restaurants, and storefronts to large-scale business campuses and more, rest assured there's an AC brand and model for your specific needs and budget.
On average, the cost to install a commercial AC system in Tucson starts at $6,319. To help you understand what end of the price spectrum your needs fall under, let's review the top 5 price factors:
Want a Stress-Free Commercial AC Installation?
Contact Advantage Air Mechanical! For over 30 years, we've installed commercial AC systems for Tucson business owners. We'll help you find the best air conditioner brand and model for the desert climate and your budget. We carry York, Carrier, Trane, American Standard, Bryant, Rheem, Ruud, and more.
Needs of Your Business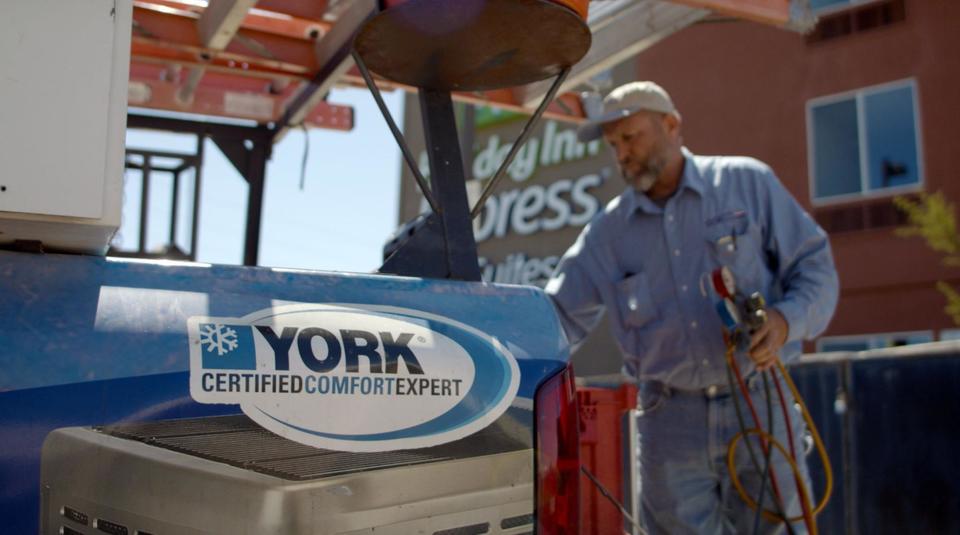 Your business property's unique needs significantly impact the cost of the commercial AC installation. Depending on the type and size of property you own, the building's cooling needs will differ.
For example, if your company needs precise climate control or has a larger business campus, installing an energy-efficient HVAC system can better protect your company's bottom line. Without one, you might burn money on inefficient cooling and unnecessarily high monthly operating bills. A large warehouse holding fragile products will require a more energy-efficient air conditioning system than an office building. Or, if you own a sprawling apartment complex, you will need a more energy-efficient air conditioning system than if you own a single-building restaurant.
The needs of your business will also impact what additional features you'll want to have included in the commercial AC installation. Whether adding a UV purifier or noise-reduction features to your new HVAC system, these extra features will increase your installation costs. However, the extra features are worth it if they improve the comfort of your tenants, employees, or customers. One example is Tucson restaurants paying to add dampening strips and noise-reducing fan blades to prevent loud air conditioners from disrupting their customers' atmosphere.
When you hire Advantage Air Mechanical, our technicians will discuss your property and business needs with you and recommend an AC system that works best for your budget.
Cooling Capacity and Efficiency of the AC System
Greater cooling capacity and system efficiency will increase installation costs.
Manufacturers use British Thermal Units (BTUs) to measure a central air conditioner's cooling capacity. The BTUs refer to how much heat energy the system can remove from a building within an hour. So, the more BTUs the air conditioner has, the more it will cost to install. To know how many BTUs your commercial AC system will need, a technician will assess the property's square footage, insulation levels, number of windows or doors, number of occupants, and various other considerations.
The next factor that impacts installation costs is the AC system's efficiency rating, called Seasonal Energy Efficiency Ratio (SEER). It measures a system's cooling capacity compared to the energy it consumes. AC systems with a 16+ SEER rating are considered high efficiency and will cost more to install. However, as mentioned above, a higher-efficiency AC system will provide greater building comfort and energy savings. Many HVAC contractors also provide rebates, financing options, and other discounts for more budget-friendly and high-efficiency installations.
Whether It's a New Installation or a Replacement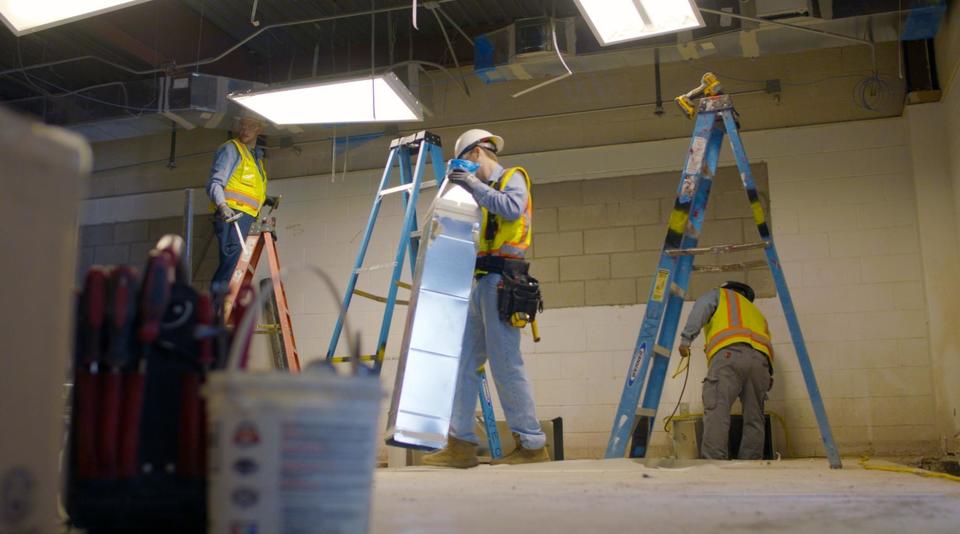 Commercial AC installations for new construction will cost more than replacing an HVAC system in an older building. This is because a new build will also need ductwork installed, increasing installation costs.
If your business property already has ductwork, a technician should still check the quality of the ducts, especially if you're planning to install a high-efficiency AC system. Leaky ducts will eliminate the cost benefits of installing a high-SEER system. Sealing and replacing air ducts can add to your installation costs but will ensure you get the most out of your new system investment.
Warranty Length That You Choose
Tucson business owners can choose to pay for extended warranties. Paying for a more comprehensive warranty policy upfront can save your business money on pricey repairs and breakdowns in the future.
Most manufacturers provide a 5-10 year parts warranty on their equipment to protect your business from manufacturing defects that need repairs. You can opt for an extended manufacturer's warranty, and your coverage will last for 15+ years instead.
Meanwhile, HVAC contractors generally offer a limited labor warranty for 1-2 years post-installation that will cover the labor costs of repairing AC problems caused by the installer's mistakes. You can opt for an extended labor warranty so that the warranty coverage lasts for 5+ years in total.
HVAC Contractor You Choose
The more skilled and experienced a contractor is, the more they will charge for their services.
Because commercial AC installations involve more complexity and parts than a typical residential one, it's best to hire a contractor with the knowledge to properly size and install your investment the right way—the first time around. That way, you don't end up paying for costly repeat labor due to an inexperienced or lower-quality technician.
When searching for a top-notch HVAC contractor, look for one that:
Has served Tucson businesses for over a decade
Has a proven track record of online reviews
Is licensed, insured, and offers satisfaction guarantees
Will provide you with upfront estimates in writing (the final bill should never be a surprise)
Also has experience with ductwork (to avoid juggling multiple contractors)
Schedule an Efficient Commercial AC Installation With Advantage Air Mechanical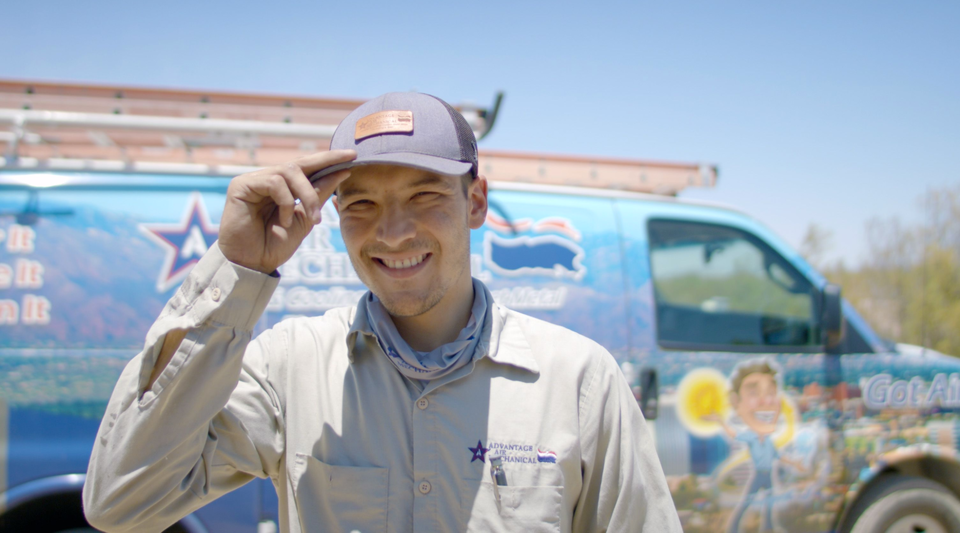 Contact the Advantage Air Mechanical team when you want a smooth commercial AC installation in Tucson. For over 30 years, our team has installed a wide range of air conditioner brands and models for Arizona businesses. Our technicians have the skill and experience to help you select the best system for your business property, needs, and budget and install it correctly. All of our installations come with upfront estimates, labor warranties, and satisfaction guarantees.
Not to mention, we have a metal shop that even other HVAC contractors use. We can do all ductwork replacements and repairs in-house for you, speeding up the commercial AC installation process.
Contact us today for an efficient and reliable commercial air conditioning installation!